As the new year begins and the NBA enters its midseason stage, teams' true identities begin to materialize. Pretending to be something you are not for 10, 20 games is one thing. But by the time we reach the 30s and 40s, we have a solid understanding of who the league's best teams are going to be, as well as the attributes that are going to drive them. Let's look back on the season thus far, and attempt to dissect which nuggets and storylines could influence the action that unfolds throughout the rest of the season. 
1. Giannis at Center, doing his best Brook Lopez impression 
Despite winning last season's NBA championship, the Milwaukee Bucks have not been privy to the same level of media attention and discussion so far this year as some of their Western counterparts. This is understandable, seeing as Milwaukee has simply done what they are expected to, currently sitting at 23-13, working through their NBA-worst strength of schedule. But within those fulfilled expectations lie several unanticipated wrinkles that could play a large role in determining the Bucks' fate throughout the rest of the season. 
Like many teams, the Bucks have been forced to adapt to their star players missing copious amounts of time. Giannis Antetokounmpo, Khris Middleton, and Jrue Holiday have all spent time off the court, both due to COVID-19 related issues and normal injuries. But their most extended absence is center Brook Lopez, who underwent back surgery and is out indefinitely. 
Lopez is typically a staple in many of Milwaukee's lineups, particularly as a rim protector in their stout defensive front. I wrote in 2019 about the way they use him as a paint deterrent, and although their scheme has somewhat adapted since then, they continue to employ a similar, no-open-looks-at-the-basket strategy. Now, with Lopez out, someone has to fill the void he left, and coach Mike Budenholzer has frequently tagged Antetokounmpo. 
During the Bucks' championship run last season, Giannis saw a fair amount of time at Center, and Lopez's injury has provided an opportunity for the Bucks to truly lean into the idea. When playing the 5, Antetokounmpo sees a significant change from his typical roaming help defender role. Like Lopez, he remains primarily parked in the paint, ready to alter any opposing shot at the rim. Thanks to his length and athleticism, Antetokounmpo has proved to be almost as dominant in this capacity as he is in his usual one, holding opponents to one of the lowest paint shooting percentages in the league and tallying a career-high 1.6 BPG so far this season.

The Bucks' tenacious defense is the motor behind their winning ways. For the team to complete their quest for another NBA championship, it is something they must continue to prioritize. It is uncertain whether or not Lopez will return before the postseason, but regardless of when he reenters the lineup, Antetokoummpo's success in his stead has given Milwaukee a new dimension.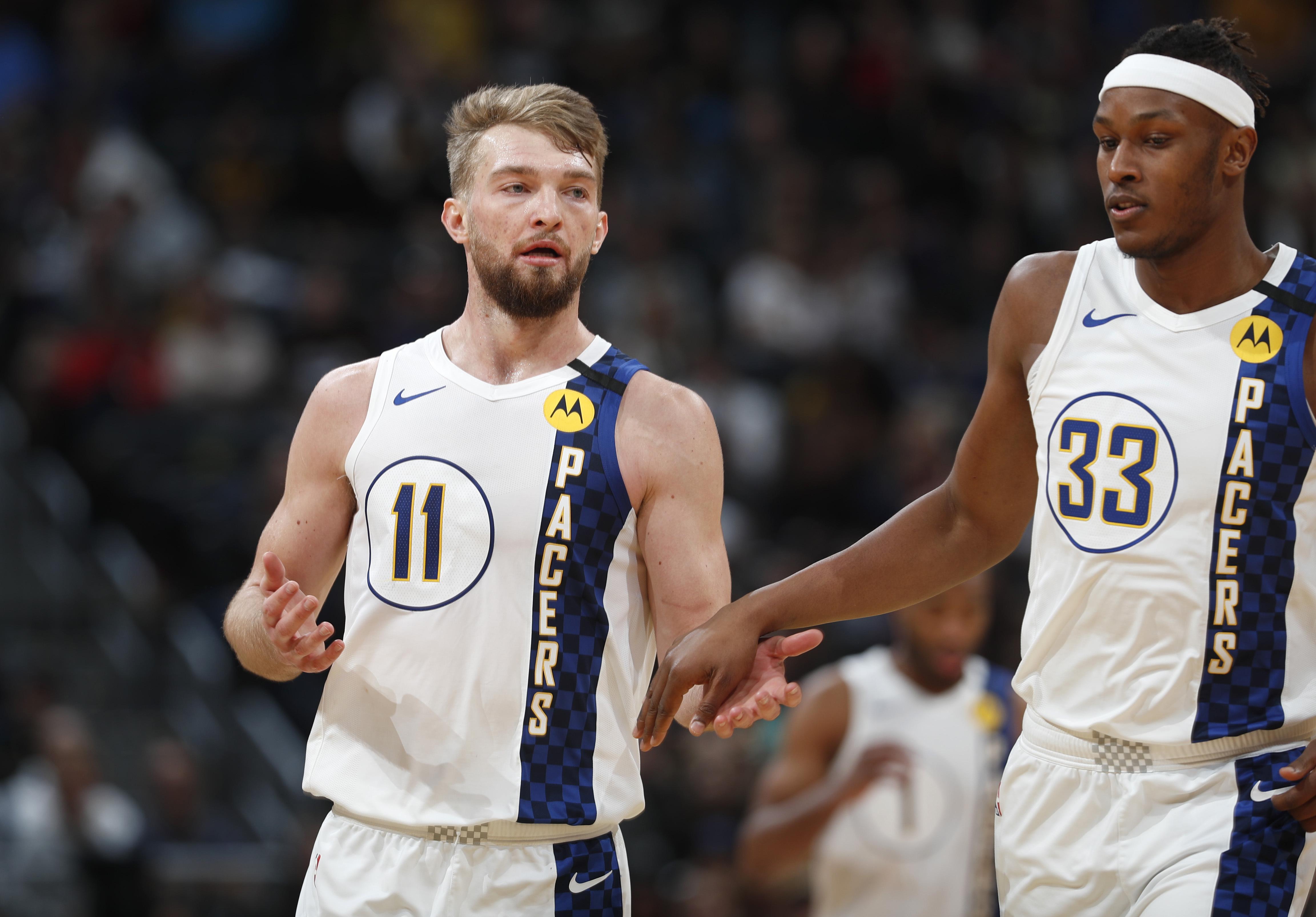 2. Indiana Cutting Bait
For several years, the Indiana Pacers have been an unpleasant matchup for opponents. With their relatively old-school style of play, two big man sets, and stingy defense, Indiana has never been the type of team that excites their adversaries. Unfortunately, that status as a difficult out has not translated into sustained success. After being swept by the Finals-bound Miami Heat in the 2020 Bubble and failing to advance from last season's Play-In tournament, Indiana entered the season with a relatively unchanged lineup and waning levels of optimism. 
Thus far, their attempt to create a different dish with the same ingredients has failed. The Pacers sit at 14-20, 13th in the East, continuing their gradual slide from their previous status as perennial playoff contenders. As is common with such struggling, stubborn teams, reports have emerged that Indiana's key players are disgruntled, disappointed with the direction the franchise is trending. Both Domantas Sabonis and Myles Turner have been subjects of the rumor mill, with coinciding reports that the desire for a divorce may be mutual. 
"It's clear that I'm not valued as anything more than a glorified role player here, and I want something more, more opportunity," Turner told The Athletic. "I'm trying really hard to make the role that I'm given here work and find a way to maximize it. I've been trying to the past two, three seasons. But it's clear to me that, just numbers-wise, I'm not valued as more than a rotational role player, and I hold myself in a higher regard than that." 
While Sabonis has not been as candid as Turner, it is clear that the Pacers are on a collision course with a long-overdue rebuild that would send their star bigs elsewhere. If such a firesale occurs this season, it could shake up the league hierarchy in a significant way. The Phoenix Suns have been discussed as suitors for Sabonis, and could bolster their already potent two-way attack. The Boston Celtics are a popular landing spot for Turner, and could see their struggling offense revived with a versatile, floor-spacing big man added to the fray. 
By the time the Trade Deadline arrives, the division of the league into buyers and sellers is nothing unusual. But rarely do the sellers have as much to offer as the Pacers do, with assets sufficient enough to drastically alter our understanding of the title race. Only time will tell if Indiana decides to begin their rebuild and unleash such chaos on the league, but if they do, the effects will be sweeping. 
3. The Nuggets Surviving without Jamal Murray, and How Dangerous That Could Be
Last season, it appeared everything was coming together perfectly for the Denver Nuggets. Nikola Jokic was in the midst of an MVP season, Aaron Gordon had proved to be the perfect trade deadline acquisition, and the reigning West champions, the Los Angeles Lakers, looked more vulnerable than ever. The conference crown was ripe for the taking, as well as the NBA Finals berth that came with it. 
Then, star guard Jamal Murray tore his ACL, roughly a month before the start of the postseason. Everything about the injury, from its severity to its timing, was devastating for both Murray and the Nuggets, who proceeded to be further decimated by injuries en route to a disappointing second round defeat. Coming into this season, the general attitude surrounding the team boiled down to one sentiment: their ceiling would be determined by the health of their lead guard. And while Murray's return date is still up in the air, Denver has done everything in their power to ensure they are ready when he is. 
Despite losing forward Michael Porter Jr. to a season-ending back injury, the Nuggets hold a record of 17-16, good for 5th in a middling Western conference, and recently earned a gritty, 89-86 victory over the league-leading Golden State Warriors. Their survival can mostly be attributed to the dominance of Jokic, who continues to transcend the big man position with his shooting and playmaking. As a team, Denver's numbers are down to about league average, which on its surface is a concerning sight. But with Murray's eventual arrival on the horizon, average is all they need to be. 
When Murray does return, the Nuggets will instantly become one of the league's most threatening teams. And as long as that point does not come on the other side of their elimination, the season could very quickly shift from one of staying alive to one of conquering new heights. Whether that means a Finals appearance or a championship depends on a variety of factors, including when Murray returns, but perhaps chief among them is the depth of the hole Denver digs themselves into. 
Currently, it is barely deep enough for them to stand in. But in the grueling days of January and February basketball, when the playoffs are closer than ever yet feel like an eternity away, they must be careful not to let themselves slip. It is easy to do, but for this team, especially crucial to avoid. For if the Nuggets maintain competitiveness, if they put themselves in a position to soar upon Murray's return, they could very easily achieve what they were robbed of the chance to last season.