Simone Biles sat at the press conference table, not alone, but with her teammates by her side. The greatest gymnast the world has ever seen had just withdrawn from the Team All-Around Final in the 2021 Tokyo Olympic Games out of concern for her mental health. In her absence, the heavily-favored Team USA took silver, the shoes of the sport's most legendary performer too large to fill. 
"In the back gym, coming in today, it was like fighting all those demons: 'I have to put my pride aside, I have to do it for the team.'" Biles said. "At the end of the day, I have to do what's right for me and focus on my mental health, and not jeopardize my health and well-being."
The development was shocking. Yet Biles was unflinching in her decision, stressing the importance of placing mental health first and prioritizing one's own personal state. 
"Once I came out here I was like, no, the mental is not there," Biles explained. "I had to let the girls do it." 
By removing herself from the production on the biggest stage, Biles refused to allow the expectations of others to define what she herself deemed was best for her personal welfare. In doing so, she furthers a vital and courageous conversation being held throughout the world of athletics regarding how the invisible game within the mind influences the visible one that is subject to so much more scrutiny. 
In the end, the only person Simone Biles owes anything to is Simone Biles. Her withdrawal does not make her any less of a competitor, and it certainly does not make her weak. Placing herself first is a living embodiment of the strength that has helped her become the greatest athlete in her sport's history. And by utilizing that strength, Biles does what is best for not only her own prosperity, but for the prosperity of the countless other people who she will help be viewed as humans first, and athletes second. 
The heightened concern over mental health in the world of sports coincides with an increased societal awareness of just how common internal strife is, and how debilitating it can be. As more people share their personal experiences, the stigma surrounding mental struggle has been greatly reduced in recent years, with many more recognizing the havoc a chaotic state of mind can wreak on all aspects of life. 
But de-stigmatization, on its face, is only half the battle. There is a cavernous gap to bridge between a person saying they support mental health, and that same person taking action to fight for it or reacting receptively when another person's mental well-being is inconvenient for them. 
Such was the vitriol Biles undeservedly opened herself up to when she withdrew from the Team All-Around Final. The Olympics are as large a spectacle as the world has to offer, and the millions of watching eyes set on Tokyo were attached to minds that carried lofty aspirations for the red, white, and blue. Returning for her second Olympic Games, Biles was one of the few recognizable faces viewers could latch onto, and with that recognition came a remembrance of Biles' previous dominance. Success was not an expectation, but an assumption. 
Biles' personal choice was a disruption, an ad-libbed line in a production that the American people had already decided would play out. It came in the midst of an unusually competitive Summer games, one in which the United States was not lapping the rest of the world in hardware. The gleam of the Silver Medal was not as brilliant, not as satisfactory as that of the Gold, and Biles was seen as the culprit behind this most recent "failure." 
This is not to say that Biles was universally vilified– there was plenty of rightful support for her courageous actions. Perception was also not her main concern in making the decision. Biles did it for herself, a reminder to those watching that she was not a wind-up toy, programmed to perform backflips and cartwheels whenever they beckoned. She was, and is, her own person, far more equipped to make choices for herself than any spectator. 
Biles cited a bad case of the "twisties," as her main motivation for withdrawing, a serious issue in the gymnastics community that much of the viewing public was learning of for the first time. The term refers to when a gymnast loses their spatial awareness in mid-air, making it much more difficult for them to safely land themselves, let alone execute a graceful dismount. Not only did this issue put Biles in a state in which she could not perform at her best, but it put her at risk of serious injury. A problem in the mind had sidelined the world's greatest gymnast, just as serious as a pulled bicep or sprained ACL. The Olympics are the world's biggest stage, but no platform is more important than the athletes who perform upon it. 
"We also have to focus on ourselves, because at the end of the day, we're human, too," Biles told The Associated Press. "We have to protect our mind and our body, rather than just go out there and do what the world wants us to do."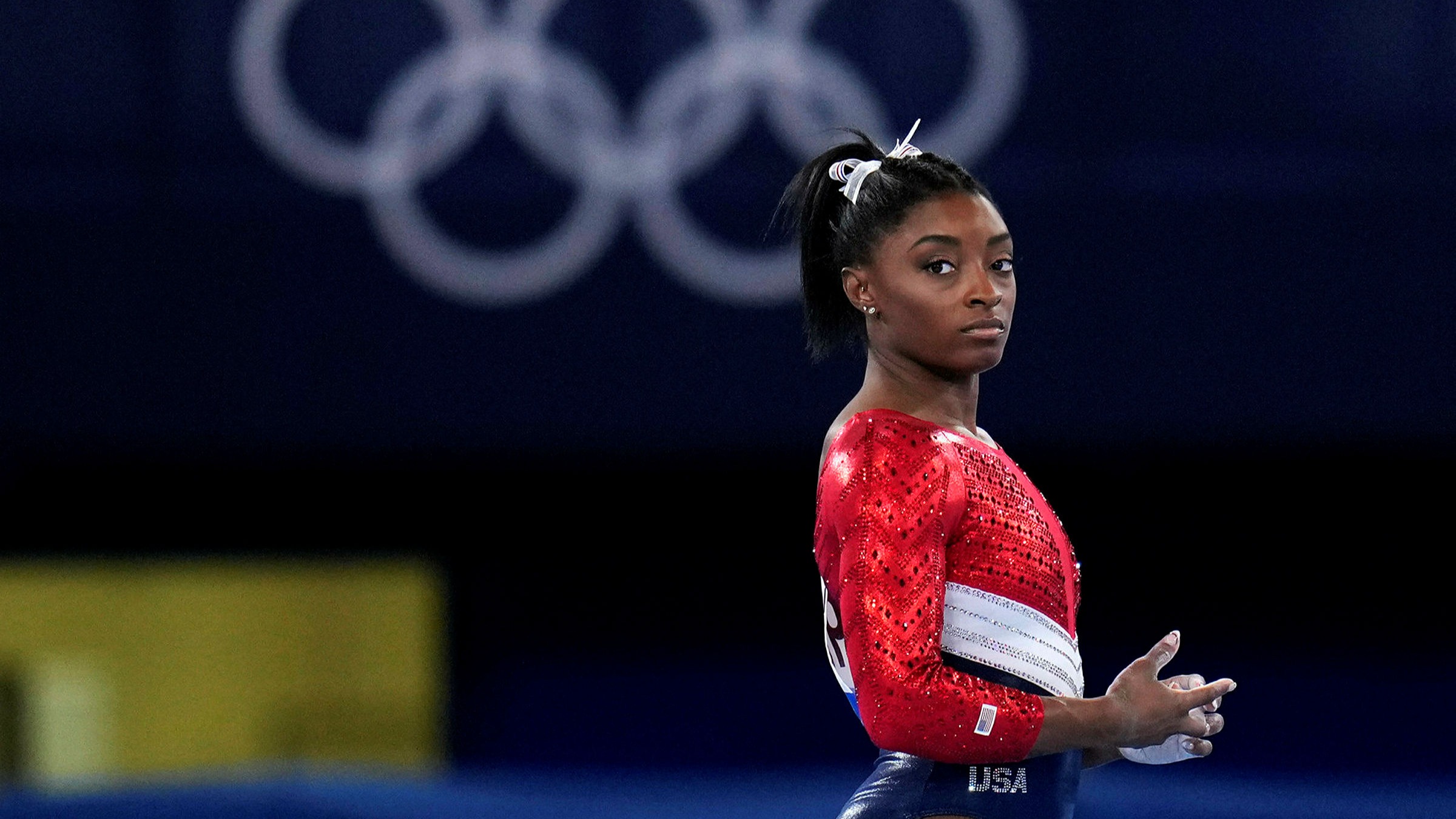 What the world "wants," Biles to do is win. Any interruption of that desire is frustrating at best and disgraceful at worst, especially when the thing holding Biles back from victory is something she is perceived to have control over. By referencing the presumptions others have for her, Biles alludes to a trap that nearly the entire world of athletics frequently falls into: assuming athletes and their performance exist in a vacuum. While we may only see these talented individuals when they play their sport on our television screens, they have distinct, three-dimensional existences outside of our observance and outside of the game that they love. And it is quite easy for the effects of what we cannot see to leak into what we do. 
This idea relates intimately to how mental health can manifest in everyday life. There is no way to know for certain if someone is experiencing internal pain unless they say so, or more concerningly, make it clear with their actions. But in sports, very rarely are athletes, particularly at the highest level, checked in on. They are assumed to be fine, and assumed to perform. Biles' withdrawal was a brave admission, a vulnerable revelation that she was not ok, and because she was not ok, she was not able to follow the Gold Medal script. 
The unrelenting spotlight that comes with professional sports plays a large role in casting the shadows that sometimes form within the minds of its athletes. By the time they reach the pinnacle of their profession, most are aware of the immense scrutiny they will face, but awareness does not always equal preparedness. 
During the 2020 NBA "Bubble," an audacious but successful restart plan for professional basketball return during the height of a global pandemic, many players were understandably affected by the unfamiliar living environment they were subjected to. Isolated from the outside world, separated from their families, a large portion saw their on-court effectiveness hindered. 
One such player was Paul George of the Los Angeles Clippers. A former finalist for the Most Valuable Player award and one of the most notable acquisitions of the previous offseason, George was under tremendous pressure going into the restart, bubble or no bubble. The Clippers had been the preseason championship favorites, and George was to play a crucial role in their coronation. 
But, as every human being is aware, not every hopeful prognostication comes to bear. Whether the yearning comes from within oneself or from outside voices, falling short is a part of the human experience. 
Seldom are we forced to fail in as public a manner as George. He struggled throughout the restart, including when the Clippers began their playoff run, seeing a noticeable statistical dip and producing lowlights that only served as fodder for his critics. His poor performance earned him the nickname "Pandemic P," a mockery of his previous "Playoff P," moniker. 
"I underestimated mental health, honestly," George said after his best performance of the 2020 playoffs, leading LA to a victory in Game 5 of the first round. "I had anxiety and a little bit of depression. Being locked in here (the bubble), I just wasn't there. I checked out."
George made these comments in the midst of the Clippers' first round series, one which they survived. But in the second round, thanks to George's ineffectiveness as well as the shortcomings of his teammates, they relinquished a 3-1 series lead to the underdog Denver Nuggets, just the 13th time such an advantage had been blown in NBA history. George played much closer to his typical standard, but posted a dreadful, 4 of 16 shooting performance in the deciding Game 7. That sour cherry on the disappointing Sundae that the Clippers' season had become only multiplied the contempt George received. The once promising campaign had screeched to an abrupt halt, and angry onlookers had a gleaming target on which to unleash their frustrations. 
The jokes, headlines, and ridicule were limitless. Around every corner was a new statistical wrinkle in George's collapse, or another video of his infamous corner-three pointer clanking off the side of the backboard. But what was lost in the endless arrows of criticism was the humanity of their target. George was a person, with the capacity to both see the hatred against him and to feel its scorn. 
The basketball community is quite unique in its relationship with the mental health of its players. Perhaps no other sport's fans are as harshly critical of failure nor as highly exalting of success. This is obviously a double-edged sword, and the sharpness of the less favorable side has been enough to draw blood from even the most stoic players. No person is built to handle the constant attention that professional athletes, particularly basketball players, receive. For the athletes, it is simply a matter of adjustment. The derision will never stop, but your attitude toward it must adapt. 
This harsh spotlight has contributed to basketball players being some of the most consistent spokesmen for mental health in sports. In 2018, former Toronto Raptors star DeMar DeRozan offered a brief yet vulnerable admission to his Twitter followers: "This depression get the best of me…" DeRozan later elaborated on his battle with depression, telling The Toronto Star: "It's nothing I'm against or ashamed of. Now, at my age, I understand how many people go through it. Even if it's just somebody can look at it like, 'He goes through it and he's still out there being successful and doing this,' I'm OK with that."
Later that same year, Cleveland Cavaliers forward Kevin Love penned an article for the Players Tribune titled "Everyone Is Going Through Something," that detailed his experiences with mental health, including a mid-game panic attack, and offered encouragement to those enduring similar issues. 
DeRozan and Love's decisions to bear their scars to a world that may not accept their legitimacy was a brave one. As occupiers of such enviable financial and societal standing, many are inclined to believe that stars like DeRozan and Love are above the struggle of mental health. This is a dangerous assumption, and one that fails to recognize the stressors that the aforementioned microscope of professional sports brings, and has always brought. 
Yes, to a degree, it has always been this way. Do not allow the vocalness of modern players to fool you into believing past athletes did not have issues they kept silent. Boston Celtics legend Paul Pierce battled depression for nearly a year after being stabbed 11 times in 2000 (an injury that he physically recovered from just months later, a remarkable return to health that led many to believe Pierce had fully bounced back from the traumatic experience. How could they have known?) 
In his post-game interview after winning the 2010 NBA championship, Metta World Peace thanked his psychiatrist for helping him reach the sport's zenith. In 2004, World Peace, then known as Ron Artest, was doled out the largest suspension in NBA history, 86 games in total, after physically assaulting a fan who had thrown a beer at him.
After dealing with anxiety for most of his career, former All-Star Chris Bosh believed he had found the fix when he joined superstars LeBron James and Dwyane Wade on the Miami Heat in the 2011 offseason– there he could win championships, there he would receive enough glory, and enough people would like him that he would not be so constantly nervous. "That's all I cared about," Bosh said. "That people liked me." Bosh shed tears in the aftermath of the Heat's defeat in that year's NBA Finals, and his reaction earned him national mockery. In 2012, Celtics guard Keyon Dooling's basketball career came to an end when he checked himself into a mental hospital to receive treatment for hallucinations he had been experiencing, issues he would later learn stemmed from post-traumatic stress disorder he harbored after being sexually assaulted in his youth. And these are just players that have allowed their wounds to see the light of day– to be treated. 
Houston Rockets assistant coach John Lucas played in the NBA during the 1970s and 80s. He understood what the league was like then, the ways it has changed, and the ways it has stayed the same. He estimates that 40% of NBA players experience some form of mental health struggle, while just 5% have sought help. 
"It's an epidemic in our league." Lucas said. "I'm talking about everything from ADHD to bipolar to anxiety and depression."
It is a grim outlook. But what separates the struggling stars of today from those of the past is a heightened awareness of the role mental health plays in sports, and a greater number of resources available to aid in times of distress. 
In the wake of DeRozan and Love's comments, the NBA Players Association hired Dr. William Parham to direct mental health and wellness. While Dooling's playing career may have been taken by his mental anguish, his career with the NBA was not. He is now a player counselor in the NBA's Mental Health and Wellness program, uniquely equipped to help those in need through what is affecting them. Lucas runs an aftercare program for athletes suffering from addiction, one of the most common and crippling side effects of mental torment. 
There are strides being made, and yet there is still so much ground to cover. Perhaps the most crucial step in the movement for mental health in sports is to bridge the gap between those experiencing internal struggle and those actively attempting to fix it– to reduce the estimated 35% of NBA players that Lucas believes are having trouble yet not working to solve it. That partially falls on the players, but it also falls on us, the spectators of the sports world, to create an environment in which they do not feel acknowledging their issues is a detriment. Every sport is vastly different, but what is good for the mental well-being of one athlete is good for them all. 
When Biles withdrew from the Team All Around, she not only made a decisive move in her own mental game, but made it substantially easier for others to do the same, a fact that Love pointed out in an Instagram post following her courageous act– "To Simone and others who have openly shared their story…You are helping many. Continue to lean into discomfort and vulnerability. Don't deny your story — defy the ending." When George acknowledged the role his emotional state had played in his slump, and when DeRozan and Love spoke out on the nature of their hardships, they each shined a light on an aspect of their lives that is so difficult and crucial to maintain, yet the general public always assumes is operating without issue. 
Athletes have begun to reclaim their mental health away from the viewing public, an essential step for all parties involved. For as lucky as we are to be able to enjoy Biles' somersaults or George's high-flying slams, the game within is theirs alone to play, and they may invite as many or as few spectators as they desire. 
"Everyone is going through something that we can't see," Love said in his initial 2018 essay. "The thing is, because we can't see it, we don't know who's going through what, and we don't know when, and we don't always know why. Mental health is an invisible thing, but it touches all of us at some point or another. It's part of life."
Indeed, mental health is a part of life, and for athletes, the on-field capacity in which we view them is a mere microcosm of their overall being. They are humans first, and athletes second. 
And while we may root for them in the game which we can see, they deserve even fiercer support in the game which we do not.